Canopy Walkway

Located at Bukit Lagong Forest Reserve at about 300 meter at sea level, this famous attraction walkway was constructed in 1992 for the purpose of scientific study of flora and fauna. This walkway system spans for 150 meter and is suspended between trees at approximately 30 meter above ground level.
This walkway system and platforms are vantage points to experience a panoramic view of the forest and Kuala Lumpur area from a distance.
The canopy walkway is opened to the public from 9.30 am to 2.30 pm last registration is at 1.30 pm. It is closed on Mondays and Fridays. Advance booking and purchase of tickets should be made at FRIM One Stop Centre.
Operating hours are subject to weather conditions (The canopy walkway will be closed when it rains and re-opened within 2 hours after it has subsided and the weather is clear.
For a party of ten and below, no reservation is necessary. Just register and purchase tickets for the canopy walkway at the One Stop Centre.
Enquiries:
FRIM One Stop Service Centre
03-62797592 or 03-62797649
Charges and Tickets:
RM10.00 (Non Malaysian adult)
RM5.00 (Malaysian adult)
RM3.00 (Student 13 years and above – must show your student ID)
RM1.00 (Children 12 years and below)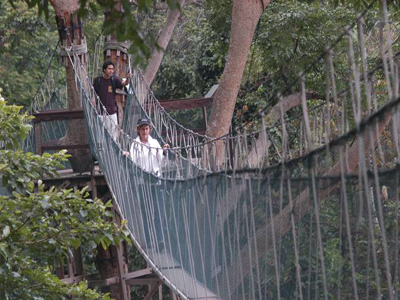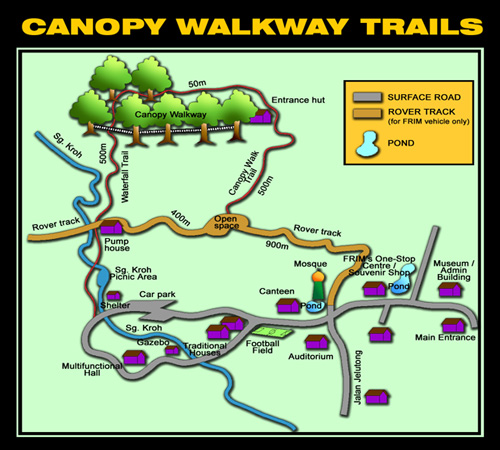 Canopy Walkway

,