From 1970 to 1974, the Pasoh FRIM Research Station (Pasoh FRS) has been a site for intensive research of lowland rain forest ecology and dynamics under a joint research project between University of Malaya and the International Biological Programme (IBM). Pasoh forest was also the main study site for the Reproductive Biology of Forest Trees Project, a joint research project between University of Aberdeen and University of Malaya from 1974 to 1978. Since then, various research projects on biodiversity, forest productivity, flora, fauna, micrometeorology, soils, hydrology and nutrient cycling were conducted in collaboration with local universities.
In December 1977, Forest Research Institute Malaysia (FRIM) took over the management of the research station from University of Malaya. This was made possible through the collaboration with the Negeri Sembilan State Forestry Department. The Pasoh forest station has since become a leading tropical forest field research station. This could not have been possible without the commitment from the state forestry department to gazette 1,840 ha of the Pasoh reserve as a Research Forest. All research activities are monitored by the Pasoh Research Committee (PRC) in FRIM since 1999. The Director of the Negeri Sembilan Forestry Department is also a Committee member.
The main attraction of the Pasoh Reserve is its floristically rich forest. A total of 335,256 stems 1 cm dbh (diameter at breast height) and above belonging to 814 species, 294 genera and 78 families has been recorded within an area of 50 ha. The most common plant families are the Euphorbiaceae and Annonaceae among the smaller trees, and the Dipterocarpaceae, Leguminosae and Burseraceae. The most common species is Xerospermum noronhianum (Sapindaceae) locally known as 'rambutan pacat', which accounts for 2.5% of the total number of plants. For trees above 30 cm dbh, the most abundant species is Shorea leprosula (meranti tembaga), a member of the Diptrerocarpaceae family. Being an isolated forest surrounded by oil palm estates and other land uses, forest gaps, formed by windthrow of a large tree or a group of trees, are a fairly common feature at Pasoh. Within these gaps, one can find many regenerating seedlings and saplings.
Although Pasoh lacks charismatic animals such as tigers and elephants, it still harbours a good composition of small mammals, primates and birds Today Pasoh is not only the site of many research studies by both local scientists and scientists from abroad but is also an educational centre for school children, college and university students as well as the general public.
The Pasoh Research Committee (PRC) was set up in the 1990s to monitor the progress of all previous, on-going and future projects in Pasoh. The committee is made up of FRIM's senior researchers from various forestry and biodiversity fields. The main objectives of this committee are to:
Oversee the research activities in Pasoh Forest Research,
Ensure that research in Pasoh Research Forest is in line with FRIM's aspirations, and
Contribute to FRIM's staff capacity building.
Among the roles of the PRC is to accept and approve research proposals from local and international researchers. Approval is based on criteria such as project objective(s), risks involved, expected output, presence of local collaborators and benefits to FRIM.
Individuals or groups who would like to conduct studies at Pasoh FR and/or use shared data should send a proposal to the PRC through the Secretary. Local and foreign researchers are encouraged to collaborate with FRIM researchers.
For more information, please contact:
Salleh Mat
Pasoh FRS Coordinator
Forest Research Institute Malaysia
52109, Kepong, Selangor
Tel : 03-6279 7267
Fax : 03-6272 9852
E-mail: sallehmt[at]frim.gov.my
Pasoh FRS is established to conduct research in tropical forest ecology. The main objectives of the establishment of Pasoh FRS are:
To synthesize research findings that could be adapted and used in the management and conservation efforts of Pasoh Forest Reserve and other tropical rain forests.
To promote local and foreign scientists and students to use the facilities provided and data collected in conducting basic, follow-up, integrated research and comparative studies at regional level and worldwide.
To host short field courses in the field of ecology and biodiversity.
The following are the main research areas currently undertaken at Pasoh:
| No | Area | Focus Area |
| --- | --- | --- |
| 1 | Biodiversity | Genetic resource and wildlife |
| 2 | Carbon dynamics | Carbon sequestration, nutrient cycling and forest production |
| 3 | Logging impact on watershed | Soil erosion, watershed damage, reforestation trial and vegetation recovery forest micro-environment |
| 4 | Forest dynamics, recovery and revegetation | Natural growth process and regeneration process after logging, and the relationship with the forest micro-environment |
| 5 | Land use change and socio-economy of local communities | Remote sensing, ecosystem services value and goods, and their contribution to the socio-economy. |
Entry Application Form
This form will be forwarded to Negeri Sembilan Forestry Department and IPD Kuala Pilah for approval and security purposes.
Application for Permission to collect Biological Resources in Pasoh Forest Reserve form
Researchers who are interested to conduct research in Pasoh Forest Reserve, kindly send in a brief Research Proposal for evaluation. If you wish to bring out biological samples, kindly fill in the APPLICATION FOR PERMISSION TO COLLECT BIOLOGICAL RESOURCES IN PASOH FOREST RESERVE form.
Research Request Form
If your research includes the setting up of physical plots or infrastructure, you will be required to adhere to the Standard Operations Protocol as outlined in Research Procedures SPF – PK(S). FRIM. 14 firstly by completing and submitting the RESEARCH REQUEST FORM.
SPF PASOH is located about 8 km from Simpang Pertang in Negeri Sembilan. Cities, towns and places near Simpang Pertang include Ulu Serting, Pertang, Kampong Penagu and Kampong Gelang (N 02′ 58.142″, E 102′ 17.820″)
Please click the link below to see the map.
http://www.gomapper.com/travel/map-of/simpang-pertang.html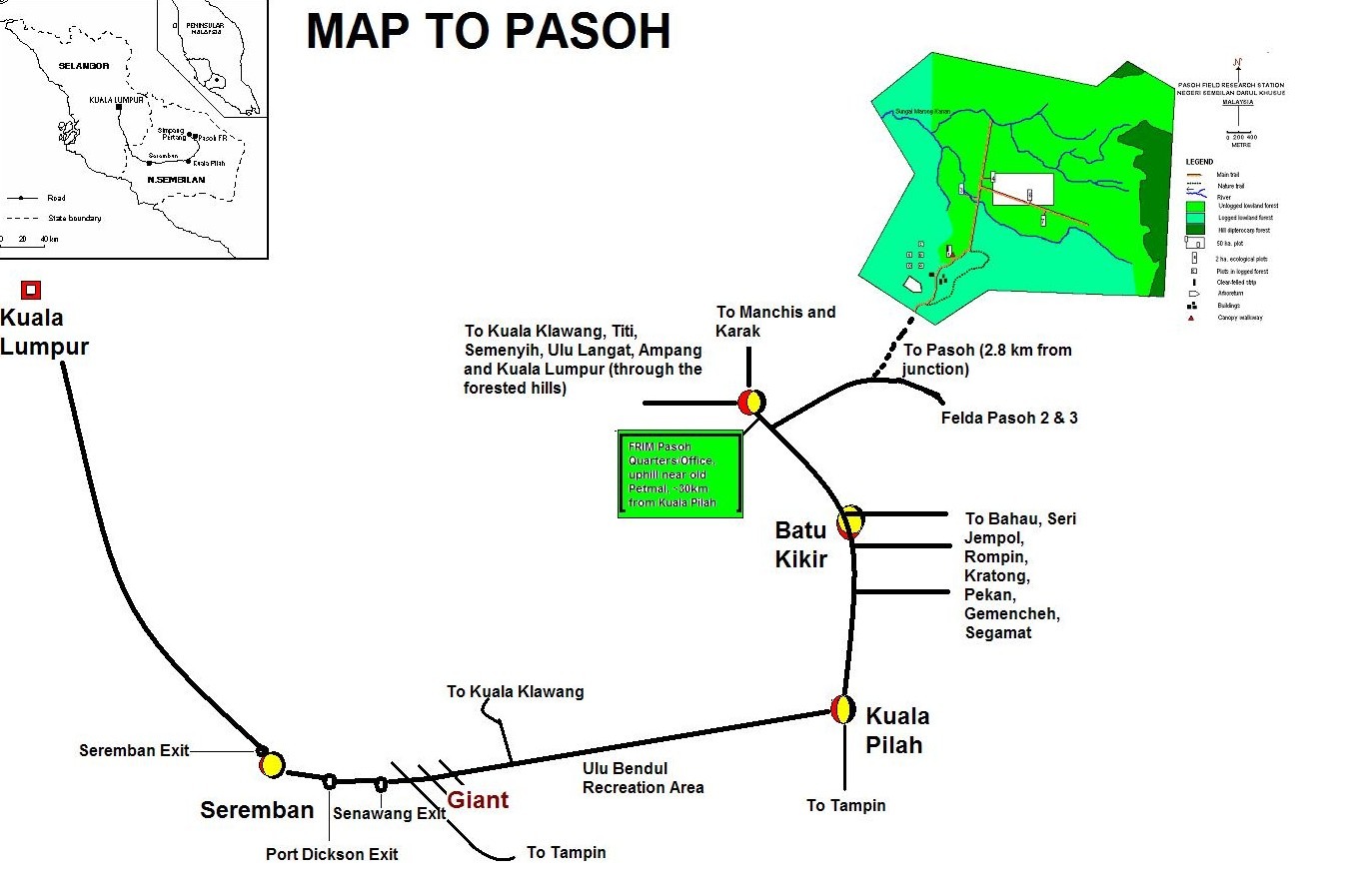 There are several routes to take to reach the facility
By Car
FROM KUALA LUMPUR INTERNATIONAL AIRPORT (KLIA).
KLIA > Head south on the North-South Highway > Senawang exit > Kuala Pilah > Simpang Pertang. Journey time approximately 1.5 hours.
FROM KUALA LUMPUR. There are THREE alternatives to get to Simpang Pertang from Kuala Lumpur:
1. KUALA LUMPUR > Head south on the North-South Highway > Senawang exit > Kuala Pilah > Simpang Pertang. Journey time approximately 2.5 hours.
OR
2. KUALA LUMPUR > Head north on the Karak Highway > Karak exit > Simpang Pulai exit (1km from Karak town on the right) > Simpang Pertang. Journey time approximately 2.5 hours
OR
3. KUALA LUMPUR > Head south on the North-South Highway > Seremban exit > Kuala Klawang exit > Simpang Pertang. Journey time approximately 2.5 hours.
By taxi
FROM KLIA.
KLIA > Head south on the North-South Highway > Senawang exit > Kuala Pilah > Simpang Pertang. Journey time approximately 1.5 hours. Fare is around RM 120.00.
FROM KUALA LUMPUR
KUALA LUMPUR > Head south on the North-South Highway > Senawang exit > Kuala Pilah > Simpang Pertang. Journey time approximately 2.5 hours. Fare is around RM 150.00
NOTE: Visitors are encouraged to drive or rent their own vehicle to get to Pasoh FRS. This is because there are no direct public transportation to reach Pasoh FRS.
For more information, please contact:
Salleh Mat
Pasoh FRS Coordinator
Forest Research Institute Malaysia
52109, Kepong, Selangor
Tel : 03-6279 7267
Fax : 03-6272 9852
E-mail : sallehmt[at]frim.gov.my
Musalmah Nasardin
Pasoh FRS Manager
Forest Research Institute Malaysia
Simpang Pertang, Kuala Pilah, Negeri Sembilan
Tel : 013-344 4633
Fax : 03-6272 9852
E-mail : musalmah[at]frim.gov.my