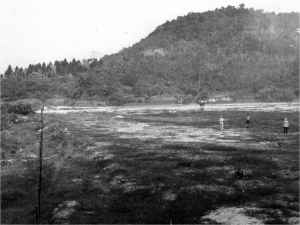 The Regent of Selangor approved the establishment of a forest research institute (FRI) in an area that was stripped of its original forest cover for vegetable farming and mining activities at Kepong in 1925. A year later, Dr F.W. Foxworthy, the first forest research officer, started set up a forest nursery and an experimental plantation on a large scale. Messrs. McCartney and Whitty made a plane-table survey of 1,500 acres of old mining land in Kepong in 1922 and suggested the areas as a possible site for a forest school and experimental plantations.
The Institute's main office building, housing laboratories, the library, herbarium and museum in addition to staff quarters were occupied in 1929. The sanction for the building was first given in 1927. The research activities carried out were chemistry, silviculture, botany, economy and zoology.
The U-shaped building was designed in a tropical colonial style with thick pillars and high ceilings.
The Institute's nursery – the "first stop" for species introduced from the wild and grown under observation before being recommended for field planting – was established in 1929.
The activities to establish extensive experimental plantations in the campus in Kepong has began in 1926. The plantation trials covered about 100 indigenous and exotic species.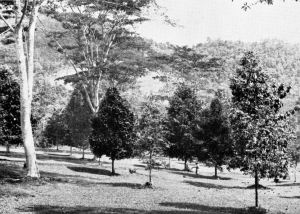 J.G. Watson, who served under Dr F.W. Foxworthy as a Deputy Conservator and Forest Economist, initiated the development of the arboreta at FRIM in 1929. The first two arboreta were the Dipterocarp Arboretum and the Non-Dipterocarp Arboretum; Dipterocarp – for the trees of family Dipterocarpaceae; Non-Dipterocarp – for other families of trees.
Opposite picture: The Dipterocarp Arboretum in 1939.
FRI/FRIM was known as the Ringyo Shikenjyo or Forestry Experimental Station during the Japanese occupation in Malaya (1942-45). However, during the World War II, 37 Forest Department staff lost their lives. Their names were etched on a war memorial headstone; installed on FRI ground on 6 March 1954.
The Forest Research Institute became autonomous under the Malaysian Forestry Research and Development Board (MFRDB) Act on 1 October 1985. The Institute was renamed Forest Research Institute Malaysia (FRIM) and Tan Sri Dr Salleh Mohd Nor was appointed as the first Director-General.