KATS Deputy Minister launches FRIM medicinal seminar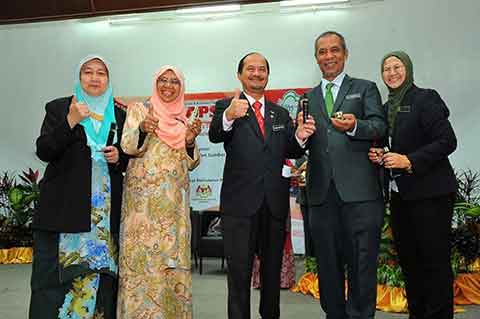 16 October 2018 (Tuesday) – The Water, Land and Natural Resources (KATS) Deputy Minister Tengku Zulpuri Shah Raja Puji launched the 15th Medicinal and Aromatic Plants Seminar (MAPS15) organised by Forest Research Institute Malaysia (FRIM) at the main campus in Kepong this morning.
| | |
| --- | --- |
| | |
| Tengku Zulpuri Shah and Abd Latif delivering their respective speeches. | From left: Nor Azah, Azizah, Tengku Zulpuri Shah, Abd Latif and FRIM Innovation and Commercialisation Director Norhayati Nordin during the new product launching. |
The seminar themed, 'Unravelling Nature's Treasures and Secrets: Current Species of Interest', was held to share and disclose the latest research and development (R&D) findings on the potential medicinal plant species for the production of cosmetic and pharmaceutical products. The two-day programme gathers over 170 participants comprising herbal entrepreneurs, researchers, academicians, representatives of agencies and policy makers.
In the KATS Minister's speech read by Tengku Zulpuri Shah, he called on the herbal industry to produce products that meet the standards in order to stay competitive nationally and internationally.
| | |
| --- | --- |
| | |
| Participants attending the opening ceremony. | From right: Tengku Zulpuri Shah and Abd Latif during the visit to the genetic lab exhibition booth. |
He also encouraged FRIM to continuously enhance its contribution to the natural product-based industry through services offered, production of product prototypes through R&D, as well as sharing of knowledge through scientific publications and journals.
Tengku Zulpuri Shah launched FRIM's latest publication entitled, 'Medicinal Forest Species in FRIM'. The documentation is important in supporting FRIM's efforts towards recognition as a UNESCO World Heritage Site. He also launched the FRIM's 'Tranquil Skincare Regimen' cosmetic product from agarwood extracts. The product will be commercialised by FRIM Incorporated (FRIM Inc.).
FRIM Inc. was established on 4 August 2017 as a FRIM's subsidiary to commercialise FRIM's R&D findings including technical services for revenue generation.
Also present were KATS Deputy Secretary General (Water and Sewerage) Azizah Ariffin, FRIM Director General (DG) Dato' Dr Abd Latif Mohmod, FRIM Deputy DG (Operations) Dr Khali Aziz Hamzah and Natural Products Director Nor Azah Mohamad Ali.
There are 23 papers and 53 poster presentations during the seminar. There will also be an exhibition of the various research findings, products and services by FRIM as well as 10 other companies. In addition, three workshops will be held on 18 and 19 October to expose the participants to the latest technology and enhance their knowledge on herbal quality control, bacterial identification and proteomics.