FRIM celebrates IDF, establishes 'Taman Sinonim'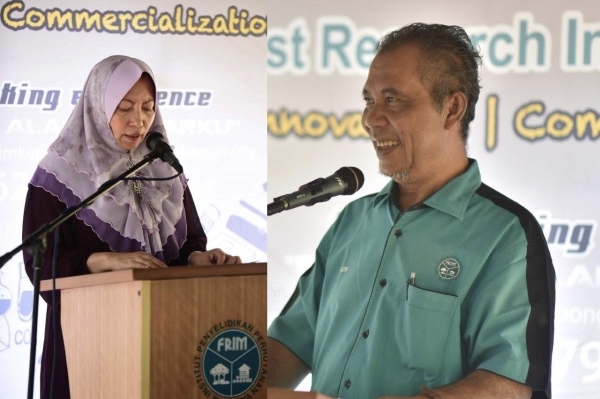 4 April 2018 (Wednesday) – Forest Research Institute Malaysia (FRIM) celebrated its International Day of Forests (IDF) and established 'Taman Sinonim' at the FRIM Research Station in Selandar (SPF Selandar), Melaka, yesterday.
FRIM Director General (DG) Dato' Dr Abd Latif Mohmod officiated the event by planting a melaka tree (Phyllanthus emblica).
A total of 66 saplings from 33 species with local names that are synonymous with names of places in Melaka were planted at Taman Sinonim by 80 representatives from FRIM and local communities including schools, higher learning institutes, villages as well as government bodies.
The 33 species, selected in conjunction with FRIM's 33rd Anniversary this year, include bidara (Ziziphus mauritiana) and merlimau (Suregada multiflora). This programme was part of the FRIM's corporate social responsibility (CSR) activities with local communities. The DG said the aim of the programme was to highlight the importance of forest conservation as well as enhance public awareness on the existence of plant names that are synonymous with places."
Abd Latif, the main author of the FRIM publication entitled, 'Sinonim Nama Tempat dengan Nama Tumbuhan', presented a copy of the 'Sinonim' book to representatives from schools around mukim Selandar. The book was picked as the winner of the National Book Award (Best Technical Book category) by National Book Development Foundation in 2016.
The 30-ha SPF Selandar was established in 2009 as a centre of excellence based the concept of forestry as a tourism attraction, a testing site for planting of selected forest species clones, for forest farming and investment in forest plantations.
Also present, FRIM Deputy DG (Operations) Dr Khali Aziz Hamzah; FRIM Forestry Biotechnology Director Dato' Dr Marzalina Mansor; FRIM Technical Services Director Norhayati Nordin, also the Innovation and Commercialisation Director; FRIM Administration Director Liza Ismail; and SPF Selandar Coordinator Dasrul Iskandar Darus.