FRIM DG officiates FRIM Bowling Tournament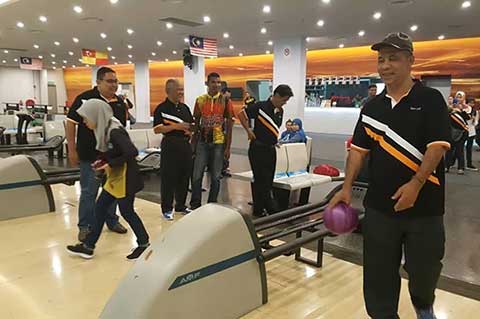 12 October 2018 (Friday) – Forest Research Institute Malaysia (FRIM) Director General (DG) Dato' Dr Abd Latif Mohmod officiated the FRIM DG Bowling Tournament on 6 October at Ampang Superbowl Bangi Gateway, Bandar Baru Bangi.
| | |
| --- | --- |
| | |
| Abd Latif delivering his opening speech. | Abd Latif rolling off the tournament with a strike. |
The tournament was organised in appreciation of Abd Latif's contribution in making FRIM become a leading forest research and development institution in the region. This year, Abd Latif celebrates his 10th year as the FRIM DG. It is also FRIM's 33rd anniversary as well as Abd Latif's 33rd years of service to FRIM.
A total of 200 bowlers from various government and private agencies joined the tournament which was organised by the FRIM Club.
Group picture of organisers with some participants and Abd Latif (standing, ninth from right).
Also present at the opening ceremony were Abd Latif's wife, Datin Halidah Kasmin and son, Muhammad Ismail; former Deputy DG (Research) Dr Ismail Harun; former Deputy DG (Operations) Datuk Dr Rahim Sudin; Corporate Communication Head Toh An Nee and Club's Secretary General Dr Mohamad Nasir Mat Arip.
From left: The champion, first and second runner-ups receiving their respective trophies and prizes from Ismail Harun (in greyish blue shirt) and Mohamad Nasir (far right).
The prizes were presented at the closing ceremony by Ismail Harun on 7 October. The Naim/Mikochi team emerged as the champion with a total pinfalls of 2056, whilst Yariba/Nik team and Ace/Nik team were the first and second runner-ups with 2052 and 2047 pins respectively.