FRIM excels in innovation contests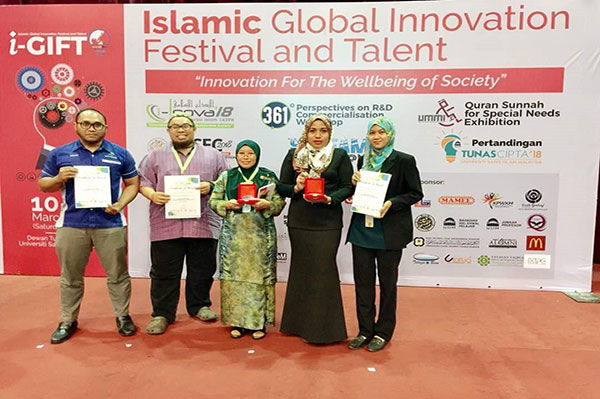 4 May 2018 (Friday) – Forest Research Institute Malaysia (FRIM)'s had received several innovation awards at the Malaysia Technology Expo (MTE) and the Exposition on Islamic Innovation (i-Inova) recently.
'Modular Seating System' innovative project led by Nik Adlin Nik Mohamed Sukri and Dr Wan Tarmeze Wan Ariffin received the Japan Intellectual Property Association (JIPA) Award for the 'Best Invention in Design Award' at the MTE on 24 February. The project was assisted by Tariq Mubarak Husin, Zairul Amin Rabidin and Khairul Masseat. The versatile, portable and space-saving system allows chair and table units to be combined and arranged according to the users' needs.
FRIM researchers also won a silver and a bronze medal at the i-Inova, held in conjunction with the 'Islamic Global Innovation Festival and Talent' (i-GIFT) on 10-11 March.
The innovation project entitled, 'PDM3: Nature Inspired Active Ingredient for an Ecofriendly Multipurpose Disinfectant' by Dr Mastura Mohtar, Dr Saiful Azmi Johari and Mohd Ramdan Parman won the silver medal. The 'CompAcc: Compost for Acclimatisation' Project by Dr Farah Fazwa Md Ariff, Dato' Dr Marzalina Mansor, Syafiqah Nabilah and Norhayati Saffie won the bronze medal.
PDM3 is an unique nature inspired microbiocide formulation for an ecofriendly disinfectant product range, named Ciera. Working together with its commercial partner Nature Profusion, Ciera products are now sold in the markets.
CompAcc is innovative acclimatisation compost produced totally from environmental-friendly organic materials. It enhances the kacip fatimah plants quality by increasing the shoot production and improving the production of total phenolic contents.