FRIM-GPB collaborate in raw materials supply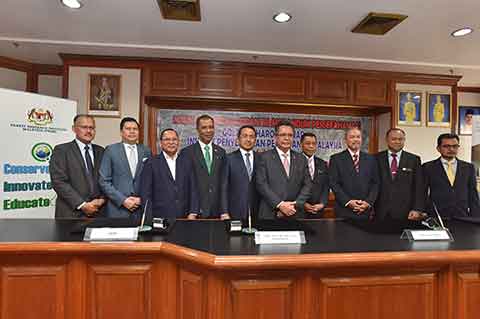 13 March 2018 (Tuesday) – Forest Research Institute Malaysia (FRIM) and Golden Pharos Berhad (GPB) signed a Memorandum of Understanding (MOU) to collaborate in research and development as well as in sufficient supply of raw materials, especially for the FRIM Product Certification Services Programme (FRIM PCS).
The ceremony held on 7 March at Wisma Darul Imam, Kuala Terengganu, was witnessed by Terengganu Menteri Besar Dato' Seri Ahmad Razif Abd Rahman.
| | |
| --- | --- |
| | |
| Abd Latif (left) and Ahmad Razif delivering their speeches. | The attendees at the ceremony. |
FRIM Director General Dato' Dr Abd Latif Mohmod represented FRIM in signing the MOU while GPB by Chief Executive Officer Dato' Ahmad Nadzarudin Abdul Razak. FRIM Finance Director, also FRIM PCS Managing Director, Mohd Zamshari Abdul Rahman and GPB Corporate Services Senior Manager Zulkifli Omar signed as witnesses.
Abd Latif said: "The collaboration is an important effort in line with the government's goal for the Bumiputera Economic Empowerment (PEB) agenda and the strenghtening of the country's economic growth."
"This strategic partnership was held to address shortage of raw materials faced by local furniture producers. It will ensure adequate and continuous supply of materials, including sawn timber as well as others for the Bumiputera entrepreneurs involved in the FRIM PCS Programme, " Abd Latif added.
From left: Mohd Zamshari, Mohd Amim, Rosli, Abd Latif, Mohd Zubir, Ahmad Razif, Muhammad Pehemi, Ahmad Nadzarudin, Ahmad Fadzil and Zulkifli posing for a group photograph after the signing.
FRIM PCS was set up in 2013 to enhance the local furniture industries' competitiveness to ensure consistent production of quality products based on the specifications and standards set by stakeholders and consumers in order to capture and penetrate the local and international markets. FRIM PCS was accredited as a product certification body by the Department of Standards Malaysia in 2014 in accordance with MS ISO/IEC 17065: 2012 (Conformity Assessment – Requirements for Bodies Certifying Products, Processes and Service).
Also present, Terengganu State Assembly Speaker Dato' Mohd Zubir Embong; State Agriculture, Agro-based Industry, Plantations and Commodities Chairman also the GPB Group Chairman Dato' Muhammad Pehimi Yusof; FRIM Institute Members Dato' Sri Mohd Amim A. Wahab and Datuk Wira Rosli Mat Hassan; FRIM PCS Technical Team Leader Hashim W. Samsi; and Terengganu Forestry Department Director Dato' Ahmad Fadzil Abdul Majid.