13 February 2018 (Tuesday) – Few people know that Forest Research Institute Malaysia (FRIM) was actively involved in the restoration of Rumah Penghulu Abu Seman, a lovely traditional Malay House which has become one of the main tourist attractions in Kuala Lumpur.
Rated 4.5 star by TripAdvisor, the house is believed to have been built some 90 years before it was moved to the garden of the Heritage of Malaysia Trust (Badan Warisan Malaysia, BWM) premises near Bukit Bintang from Kampung Sungai Kechil, Mukim Bagan Semak, Bandar Baharu, Kedah, under a project initiated by BWM in 1996.
The cost of moving and reconstructing the structure included the documentation, research, purchase and deciding the new location within the city centre. Officially launched by BWM President Tan Sri Ahmad Sarji Abdul Majid in May 1996, the reconstruction of the building began in August 1996 and the project was completed in November 1997.
The drawing and documentation process was undertaken by Tuan Syed Iskandar Syed Ariffin from University of Technology, Malaysia (UTM), Hong Lai Thong (FRIM) and Yahya Ahmad, University of Malaya (UM).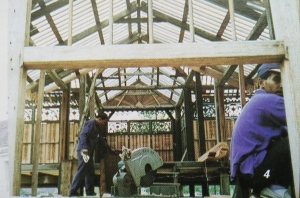 FRIM Director General Dato' Dr Abd Latif Mohmod said FRIM's experts and carpenters had assisted in the dismantling, rebuilding and refurbishment of the house including replacing damaged parts and components; identifying suitable wood for the structure; and recording as well as marking the joint types for every connecting part.
FRIM researchers, Shukari Midon and Dr Mohd Tamizi Mustafa; as well as two foreign experts, Wulf Killmann and Tom Sickinger from Germany, were involved particularly in the documentation and research.
Other FRIM staff who worked on the reconstruction included Karim Nasir, Suffian Hamsan, Rosli Mahidin, Mohd Asri Adam, Rosmaidi Ibrahim, Kunasegaran Muthu, Abdullah Manap, Abdul Ghani Muhamad, A. Roslee Radzali, Noramad Buyong, Aminudin Abdul Aziz, Rosley Jaafor, Mohd Nayan Ismail, Jaafar Sulaiman, the late Kamaruzaman Nawawi and Mohd Zaini Adam.
The historic structure was accorded two international recognitions – Honourable Mention: UNESCO Asia-Pacific Cultural Heritage Conservation Award 2000; and Merit Award: 2003 ASEANTA Award for Excellence in Cultural Preservation Effort.