FRIM organises first biodiversity talk on mammal conservation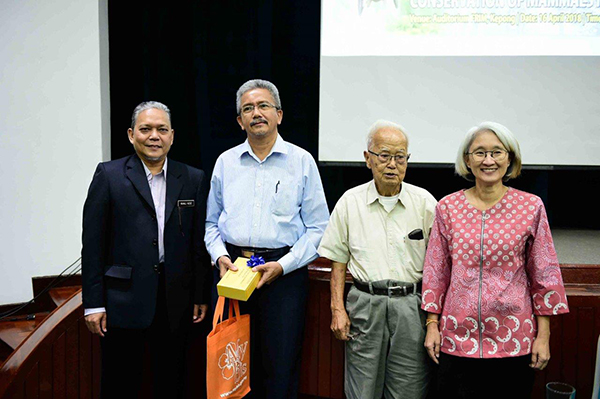 17 April 2018 (Tuesday) – Forest Research Institute Malaysia (FRIM) had organised a Biodiversity Talk, themed "Conservation of Mammals in Malaysia" yesterday at FRIM Auditorium.
Two well-known fauna experts Dr Lim Boo Liat and Prof. Dato' Dr Tajuddin Abdullah presented the
topics, 'My research experience from 1947 to date' and 'Biodiversity, biogeography and evolution' respectively.
Lim, a former zoologist for the Institute for Medical Research (IMR), is regarded as a pioneer in the field of zoology in Malaysia. He has dedicated his professional life to working in bio-medical research on small animals in relation to zoonotic diseases such scrub typhus, leptospirosis and plague. He is also the honorary consultant zoologist for the Department of Wildlife and National Parks (PERHILITAN) Peninsular Malaysia.
Tajuddin, a senior lecturer for the Universiti Malaysia Terengganu (UMT) Faculty of Science and Technology, is also the Institute of Tropical Biodiversity and Sustainable Development (IBTPL) Director.
The talk, officiated by FRIM Deputy Director General (Operations) Dr Khali Aziz Hamzah was attended by nearly 200 participants comprising officers from the Ministry of Natural Resources and Environment (NRE), PERHILITAN, Forestry Department Peninsular Malaysia, IMR, FRIM researchers, experts, academicians, representatives of non-governmental organisation (NGO) and local universities as well as members of the public.
Organised by the FRIM Forest Biodiversity Zoology Branch, this is the first in a series of Biodiversity Talk held to encourage exchange of knowledge, experience, update and way forward on issues related to biodiversity, ecology and conservation in Malaysia. Also present, FRIM Forest Biodiversity Director Dr
Lillian Chua and Zoology Branch Head Mohammad Shahfiz Azman.