20 October 2021 (Wednesday) – Forest Research Institute Malaysia (FRIM) conducted a tree planting programme in conjunction with the institute's 36th anniversary celebration this month at its main campus as well as at its research station (SPF), apart from organising a number of other activities.
From 1 October, over 1,700 trees of various species have been planted at FRIM, Kepong as well as at 10 research stations and the tree planting activities will be intensified.
The launching ceremony of this tree planting programme was officiated by FRIM Director General (DG) Dr Ismail Parlan on 15 October at the Perah Campsite.
| | |
| --- | --- |
| Ismail delivering his speech. | Ismail planting Merbau at Field 25 with Sadali Sahat whilst (standing from left) Norwati, Toh and Noor Azlin look on. |
Also present, Deputy DG (Research) Dr Norwati Muhammad; Deputy DG (Operations) Dr Noor Azlin Yahya; Forestry and Environment Division Director Dr Wan Mohd Shukri Wan Ahmad; Forest Products Division Director Dr Mohamad Omar Mohamad Khaidzir; Research Planning Division Director Dr Mohd Rosli Haron; and Corporate Communication Unit (CCU) Head Toh An Nee.
They planted 20 merbau (Intsia palembanica) and balau laut (Shorea glauca) trees at the Field 25 with CCU and Forest Management Branch staff.
The following is the breakdown of the number of trees planted from 1 to 15 October:
FRIM, Kepong: 40
SPF Bidor, Perak: 90
SPF Mata Ayer, Perlis: 12
SPF Bagan Datuk, Perak: 100
SPF Segamat, Johor: 10
SPF Jeli, Kelantan: 450
SPF Pasoh, Negeri Sembilan: 3
SPF Setiu, Terengganu: 5
SPF Jengka, Pahang: 2
SPF Maran, Pahang: 1,010
SPF Selandar, Melaka: 5
Ismail thanked and congratulated all those involved in the programme. He also called for tree planting to be intensified to contribute to the 100 Million Tree Planting Campaign and FRIM's target of 20,000 trees per year.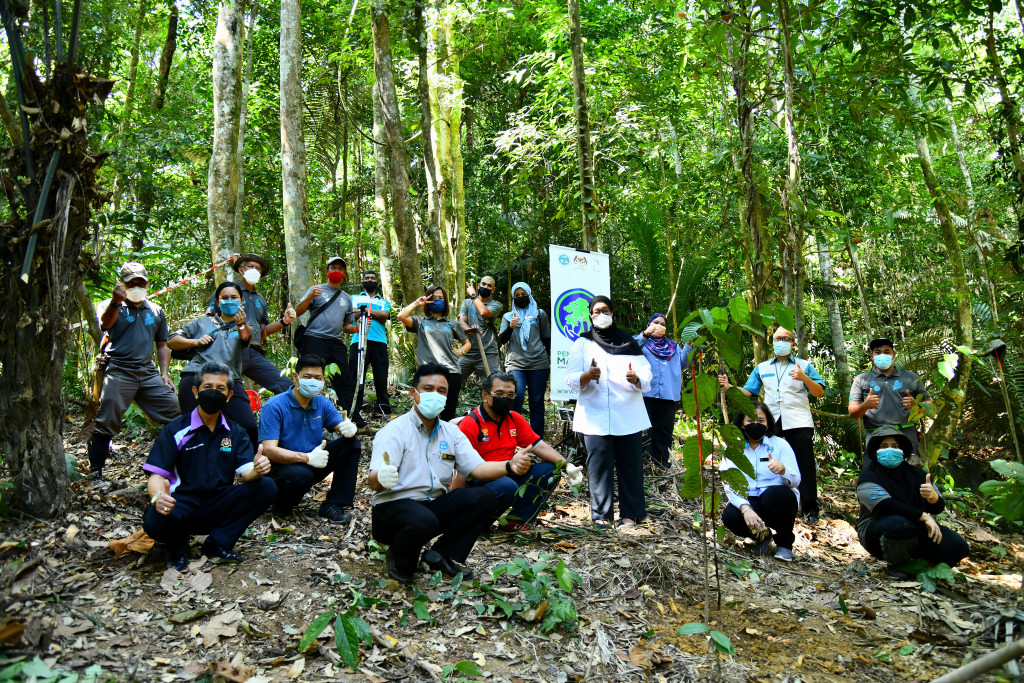 Ismail and FRIM staff involved in the tree planting on 15 October 2021.
Click on the following link: https://www.facebook.com/watch/?v=587647468955163 to watch the launching of the programme.