FRIM researcher gets Best Paper Award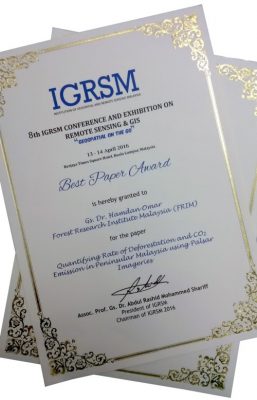 18 April 2016 (Monday) – Forest Research Institute Malaysia (FRIM) Forestry and Environment Researcher Gs. Dr Hamdan Omar won the Best Paper Award at an international conference held recently in Kuala Lumpur.
Hamdan received the award from Institution of Geospatial and Remote Sensing Malaysia (IGRSM) President, Assoc. Prof. Dr Abdul Rashid Mohamed Shariff, at the closing of the 8th IGRSM International Conference and Exhibition on Geospatial and Remote Sensing on 14 April.
The paper entitled, "Quantifying Rate of Deforestation and CO2 Emission in Peninsular Malaysia using Palsar Imageries" was picked the best out of 100 papers, of which 75 were oral presentations and 25, posters.
Over 300 local and international participants attended the biennial conference, themed "Geospatial on the go".
Officiated by Science, Technology and Innovation Minister, Datuk Seri Panglima Madius Tangau on 13 April, the conference aimed to gather professionals and industry experts from the geoinformation field globally to share their knowledge, expertise and experience; as well as promote the building of linkage between local and international professionals in this field with industries.
IGRSM, formerly known as the Malaysian Remote Sensing Society (MRSS), was formed in July, 1995. Its overall objective is to support and facilitate development of geospatial and remote sensing technologies in the country.
Since its formation, IGRSM has embarked in several activities aimed towards further promoting the use of the technology, strengthening government-private sector interaction, encouraging more publications of research and development (R&D) results and keeping members informed of geospatial and remote sensing activities within and outside the country.
IGRSM also awards the Geospatialist (Gs.) title for professional members registered (for at least two years) with the institution. Currently, over 60 members hold the Gs. title including three FRIM officers namely, Hamdan, Mohd Azahari Faidi and Muhamad Afizzul Misman from the FRIM Geoinformation Programme.