FRIM, Selangor government raise environmental awareness among students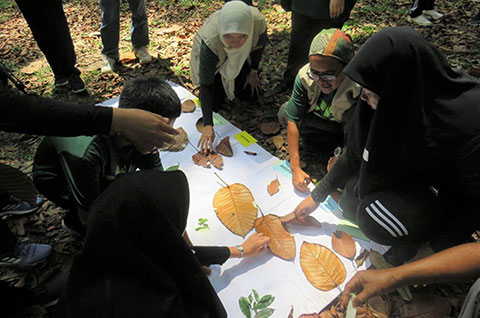 6 November 2019 (Wednesday) – Forest Research Institute Malaysia (FRIM) has organised an environmental awareness programme on 'Understanding Dipterocarp Species: The Icon of Our Lowland Forest' for students with the support of the Selangor Government yesterday.
This year, FRIM has received funds from the state government through the Environment, Green Technology, Science, Technology and Innovation and Consumer Affairs Committee, Smart Selangor, Selangor State Economic Planning Unit (UPEN) to implement environmental awareness programmes.
| | |
| --- | --- |
| | |
| Hee (left) and Abd Latif delivering their respective speeches. | The programme participants and organisers posing for a group pix with Hee (seated, middle). |
The programme today was officiated by the Selangor Environment, Green Technology and Consumer Affairs, Science, Technology and Environment Exco, YB Hee Loy Sian. Also present, FRIM Director General Datuk Dr Abd Latif Mohmod, Gombak District Education Officer Sajoli Masdor, FRIM Forestry and Environment Director Dr Ismail Parlan and FRIM Ecotourism and Urban Forestry Programme (EUF) Head Dr Noor Azlin Yahya.
Tree species of the Dipterocarpaceae family are widely distributed in lowland forests in Malaysia. Given their abundance makes the dipterocarp trees may be considered as the national forest icon. In FRIM, the Dip1terocarpaceae family trees are found in research plots as well as at the Dipterocarp Arboretum which houses a total of 120 species.
| | |
| --- | --- |
| | |
| Noor Azlin explaining the uniqueness of Dipterocarpaceae during the introduction session. | Participants learning characteristics of Dipterocarpaceae at the Dipterocarp Arboretum. |
The environmental awareness programme was conducted based on the environmental education modules developed by EUF with the aim of enhancing knowledge of the uniqueness and contribution of the Dipterocarpaceae to the global environment. The programme may also serve to increase empathy and support for efforts to conserve Dipterocarpaceae.
A total of 32 form three students from SMK Kepong, SMK Taman Ehsan, SMK Bukit Gading and SMK Seri Kundang participated in the programme yesterday, which included activities such as talks, 'role play' and discussion sessions conducted by FRIM researchers.
In addition to this, FRIM had organised 'The Nightlife at FRIM' on 3 May while the 'Knowing the Forest Treasures' Environmental Education Camp will be held on 26-27 November.