9 March 2022 (Wednesday) – Forest Research Institute Malaysia (FRIM) soil scientist Dr Jeyanny Vijayanathan has received the Outstanding Woman Researcher Award conferred by the Venus International Foundation for the Soil Fertility category under the discipline of Agricultural Sciences on 5 March 2022 in India.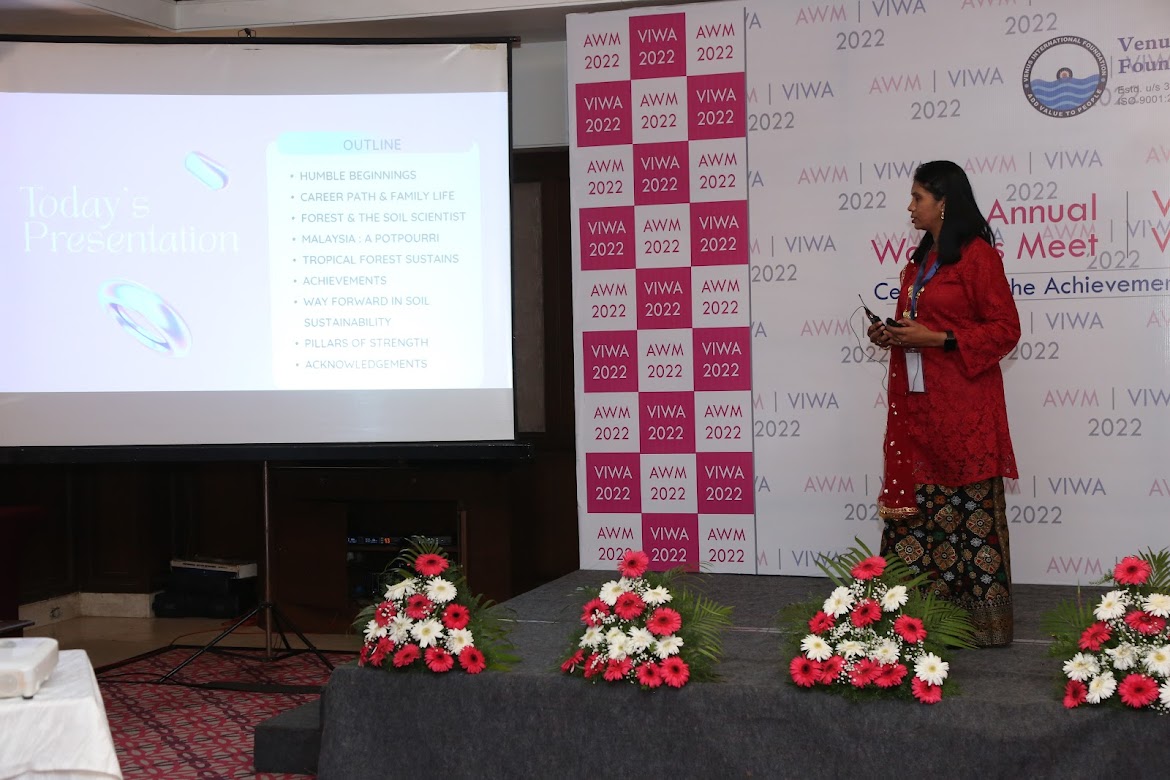 Jeyanny delivering her keynote presentation.
Jeyanny also one of the four guest speakers invited to deliver keynote presentations at the Venus International Women Awards (VIWA) ceremony which was held in Chennai. Her presentation entitled, 'The Journey of Unearthing Tropical Forests Soils for Sustainability', was about her achievements and challenges as a woman soil scientist.
| | |
| --- | --- |
| From left: Sathiskhumar, Jeyanny and Sarani Ghosal at the award ceremony. | Jeyanny showing the award certificate received. |
Also present, Dr Sarani Ghosal Mondal of National Institute of Technology Goa, India and VIWA Chairman Dr R. Sathiskhumar.
VIWA focuses on the contribution of women in science particularly in the fields of agricultural sciences; engineering; health and medical sciences; humanities and social sciences; management sciences; and veterinary and animal sciences. This year, 33 award winners were selected out of 974 nominees globally via the Expert Committee Report and Apex Committee recommendations.
Jeyanny, a scientist with 17 years of experience in soil sciences and plant nutrition, is also the current Vice President for the Malaysian Society of Soil Science as well as a registered chemist with the Malaysia Institute of Chemistry.