FRIM to expand furniture testing scopes for quality assurance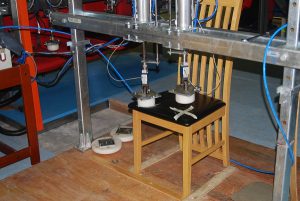 12 January 2018 (Friday) – Forest Research Institute Malaysia's (FRIM) Furniture Laboratory Testing (FTL), the first in Asia to be accredited by the Furniture Industry Research Association (FIRA) from the United Kingdom (UK), will enhance its testing scopes in line with the latest quality assurance requirements for local products.
FRIM Director General Dato' Dr Abd Latif Mohmod said FTL was established since 1989 to help local furniture manufacturers improve the quality of their products for local as well as overseas markets through its testing and consultation services.
The laboratory received the FIRA accreditation on 16 September 1994 for the performance test scope covering strength, durability, stability and safety to help local furniture penetrate the European markets, especially that of the UK.
The laboratory also obtained the ISO 9001 certification in 2006 and ISO/IEC 17025 accreditation in 2010 from the Department of Standards Malaysia (DSM). The scope of the tests has increased from three to 11 products, covering domestic, non-domestic and outdoor furniture.
Abd Latif said FTL's testing methods and reports have been acknowledged by the International Laboratory Accreditation Cooperation-Mutual Recognition Agreement (ILAC-MRA) in 2011 as being on par with other international furniture testing laboratories.
Apart from the British Standards (BS EN), FTL also conducts tests based on other international standards such as BIFMA (Business and Institutional Furniture Manurfacturers Association, United States of America) and Aus/NZ (Australia and New Zealand). The fees are charged based on the type of furniture as well as the type of tests required.
To date, FRIM has received testing requests from over 1,200 clients. Sixty percent of them are comprised of exporters while 40 percent, manufacturers for the local market.
FTL has collaborated with international companies such as IKEA in 1994-1996 and also shared expertise with overseas participants to conduct furniture testing. In addition to domestic clients, FTL has also received international clients from countries such as Denmark, Vietnam, Indonesia, UK, Spain, Sri Lanka and Singapore.
Abd Latif said the FRIM PCS (Product Certification Services) initiative introduced in 2013 will contribute to an increase in the demand for furniture testing and FTL is upgrading its infrastructure in preparation for the Ministry of Finance's implementation of the FRIM PCS certification requirement on central furniture suppliers expected to be enforced this year.
Apart from enhancing the scope of testing for furniture products under the FRIM PCS certification, he added that FTL also plans to increase its scope of services in tandem with new testing requirements such as the flammability tests required of furniture exporters for Europe.