19 November 2018 (Monday) – Forest Research Institute Malaysia (FRIM) will organise a FRIM Technology Talk themed, 'Sustainable Forestry: Innovations and Solutions', to promote its services or forge research and development (R&D) collaborations. Forestry-related managers, entrepreneurs and industry players as well as members of the public in the Northern Zone are invited to attend the programme held on 27 November, at the Kinta Riverfront Hotel, Ipoh.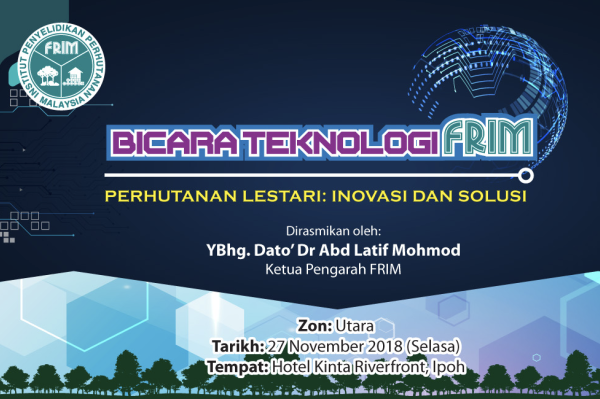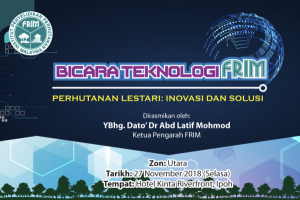 ​
FRIM Tech Talk poster.
"The programme aims to highlight the results and output of FRIM R&D projects, serve the needs of stakeholders in the field of forestry and forest products in general as well as provide solutions and share information," said FRIM Director General (DG) Dato' Dr Abd Latif Mohmod.
FRIM welcomes the participation of government and private agencies representatives related to forestry; local authorities; housing developers; forest plantation and herbal entrepreneurs; landscape managers as well as interested individuals.
Registration is free on a first-come, first-served basis. For registration or further inquiries, please contact FRIM Technology Talk Secretariat at: 03-6279 7162/7180 or email to frim_techtalk2018@frim.gov.my.
The programme for the Northern Zone, covering Perlis, Kedah, Penang and Perak, will be officiated by FRIM DG. It is the first in a series of technology talks to be conducted by FRIM throughout the country.
Participants will have the opportunity to establish joint ventures with FRIM, check out its R&D products as well as explore the benefits of all information, R&D outputs and services.
FRIM experts and researchers from forestry and environmental; forest biodiversity; natural products; forestry biotechnology and forest products divisions will share their research findings and services offered. A 'Business Matching' session will also be held for participants interested in FRIM's services to have face-to-face consultations and discussions with FRIM experts. A 10% discount will be given for any agreement on FRIM's technical and consultations services at this technology talk.