FRIM, UKM cooperate in WHS legal aspects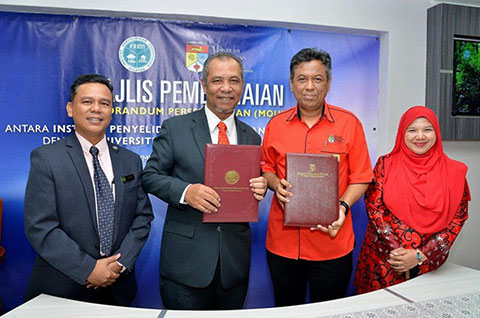 25 July 2019 (Thursday) – Forest Research Institute Malaysia (FRIM) and Universiti Kebangsaan Malaysia (UKM) have signed an agreement for collaboration in research development and the implementation of legal aspects regarding FRIM's nomination as a world heritage site (WHS).
| | |
| --- | --- |
| | |
| Abd Latif (left) and Abdul Wahab speaking at the ceremony. | Some of the attendees of the ceremony. |
The Memorandum of Understanding (MOU) signing ceremony was held at the Green Community Centre, Villa Latifiana, FRIM, yesterday. FRIM was represented by Director General Dato' Dr Abd Latif Mohmod while UKM, Deputy Vice Chancellor (Research and Innovation Affairs) Prof. Dato 'Ir. Dr Abdul Wahab Mohammad.
This collaboration involved the identification of legal and regulatory aspects on the conservation of heritage forest environment, historical buildings and social environment as well as analysing and evaluating the effectiveness of the legal framework in conserving FRIM.
| | |
| --- | --- |
| | |
| From left: Ismail, Abd Latif, Abdul Wahab and Nazura during the document exchange session. | All attendees at the ceremony posing for a group photograph with Abd Latif (seated, middle). |
In addition, the MOU also involved the production of a publication on legal aspects in support of the process in getting the UNESCO WHS recognition, which is important as a policy guidance for FRIM in dealing with future legal matters.
The MOU document exchange was witnessed by FRIM Forestry and Environment Director Dr Ismail Parlan and UKM Law Faculty Dean Prof. Dr Nazura Abdul Manap. Also present, FRIM Heritage Site Management Programme Head Noorsiha Ayop.