FRIM wins top Intellectual Property Award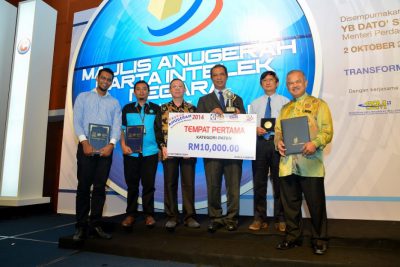 2 October 2014 (Thursday) – Forest Research Institute Malaysia (FRIM) has clinched the top prize of the National Intellectual Property Award 2014 (NIPA 2014) for the Patent Category for its outstanding and environmentally-friendly High Temperature Drying (High Temperature Drying Timber atau HTD) system.
FRIM Director General (DG) Dato' Dr Abd Latif Mohmod led the FRIM representatives, comprising researchers involved in the HTD Project such as Choo Keng Teng and Dr Woon Weng Chuen, to the awards ceremony in Kuala Lumpur today to receive the trophy, WIPO medal, certificate and cash prize of RM10,000.
The NIPA Official Ceremony, co-organised by the Domestic Trade, Corporation and Consumers Ministry and the Intellectual Property Corporation of Malaysia (MyIPO) and held in conjunction with the celebration of National Intellectual Property Day since 2006, was graced by Minister Datuk Seri Hasan Malek.
The HTD system was one of 13 innovations shortlisted from 90 contenders for this category. The second and third prizes went to Malaysian Agricultural Research and Development Institute (MARDI) and Malaysian Palm Oil Board (MPOB) respectively.
The key researchers of the HTD Project, Dr Sik Huei Shing and Choo, had presented the HTD system at the MyIPO Headquarters on 3 April 2014 for the final evaluation session to select the main winners for the category. Dr Abd Latif was also present to give his inputs, along with Andre Accard, Chief Executive Officer of Advanced Low Pressure System (ALPS) Sdn. Bhd. which is collaborating with FRIM to commercialise the system.
The HTD technology offers an ideal solution to the concerns of the rubberwood furniture manufacturers and timber trade industry over increasingly stringent requirements for environmentally-friendly products imposed by developed countries.
The HTD system not only eliminates the use of the preservatives, it also reduces the processing cycle time by more than 75%. In addition, the quality of the HTD-treated lumber is generally good and has better dimensional stability compared to lumber produced by conventional methods.
FRIM has obtained the patent for the HTD technology from the United States Patent and Trademark Office (USPTO) in March 2013; from Malaysia in October 2013; and from Singapore in August 2014. and it has also filed for patent in Malaysia and six other countries, namely Thailand, Vietnam, Indonesia, China and India.
The HTD technology has won numerous awards including:
National Innovation Awards 2013 (Product Category) – Malaysia;
Green Invention Order of Merit Award 2013 – World Inventor Award Festival – Korea; and
Forestry Order of Merit Award 2013 – World Inventor Award Festival – Korea.
Recently, Dr Sik was also announced as one of the winners of the IUFRO (International Union of Forestry Research Organisations) Award for Outstanding Doctoral Research on the development of the HTD technology. The awards presentation ceremony is expected to be held on 10 October in conjunction with the upcoming 24th World IUFRO Congress in Salt Lake City, United States of America.