FRIM won 1 gold, 1 silver at MTE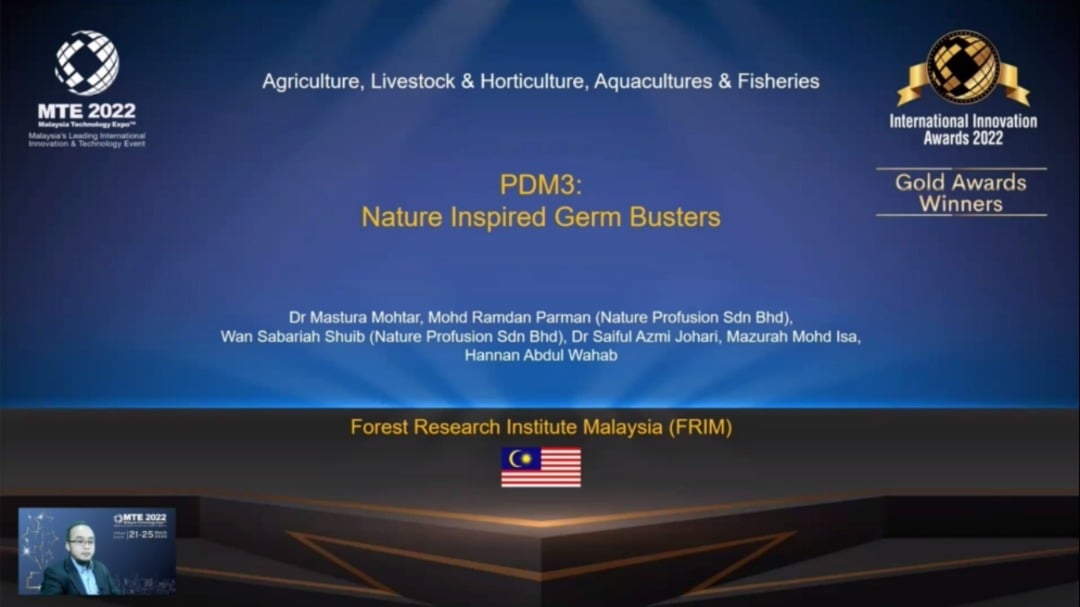 5 April 2022 (Tuesday) – Forest Research Institute Malaysia (FRIM) has received the Gold Award Winner of International Innovation Awards (IIA) category for Nature Inspired Germ Buster and Silver Award Winner of Public Service Innovation Award (PSIA) category for Herbal Industry Value Chain System (Herba Xpress) at the Malaysia Technology Expo 2022 (MTE 2022).
The MTE was held on March 21-25 virtually and the results of the competition were announced on 25 March.
The Nature Inspired Germ Buster innovation team led by Dr Mastura Mohtar included Mohd Ramdan Parman, Wan Sabariah Shuib, Dr Saiful Azmi Johari, Mazurah Mohd Isa and Hannan Abdul Wahab.
The Herbal Industry Value Chain System (Herba Xpress) team headed by Rohana Abd Rahman comprised Ariff Fahmi Abu Bakar, Dr Mohd Rosli Haron, Khunirah Dzu, Nor Atiqah Mohd Fauzi, Nur Fazreen Zainal, Zahari Othman, Intan Farah Wahida Khabir, Mohd Shahidan Mohamad Arshad, Munirah Mohd Fauzi, Khairul Kamilah Abdul Kadir, Nur Amalina Rashid, Nur Hazirah Jalaludin, Mahmud Husni Abd Hadi, Ismail Ramli and Muhammad Faiz Md Fauzi.
The presentations by Mastura and Rohana were also shown on the MTE website throughout the expo.
Apart from that, FRIM also won the best presentation award for the International Session – Graduate Track in Food Process Engineering theme at the Eighth International and National Conference on Food Engineering Network of Thailand (FENETT 2022) held in Chiang Mai, Thailand yesterday.
The presentation entitled, 'Microwave-vacuum Drying of Orthosiphon aristatus Leaves: Drying Kinetics and Content of Rosmarinic Acid' was made by Natural Products Division Researcher Hada Masayu Ismail@Dahlan. Members of the team included Dr Pin Kar Yong, Prof. Madya Dr Mohd Nordin Ibrahim, Nur Fatin Awanis Mohd Zin and Mohd Farhan Abdul Razak.
| | |
| --- | --- |
| The announcement of Gold Award Winner  at MTE. | The lists of gold and silver winners of MTE. |
| | |
| MTE Poster on the presentations by Mastura and Rohana. | Certificate of recognition received by FRIM at FENETT 2022. |