FRIM wins 2 golds, 2 silvers at MTE 2023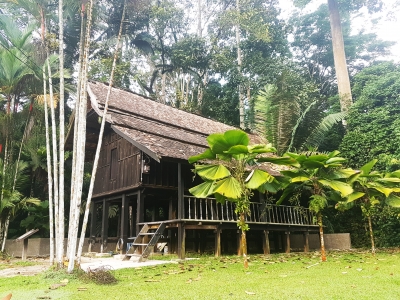 20 March 2023 (Monday) –Forest Research Institute Malaysia (FRIM) has won two gold medals and two silver medals for the International Innovation Awards (IIA) category and a Special Award from the International Federation of Inventors' Associations (IFIA) for Best Invention Medal at the Malaysia Technology Expo (MTE) 2023 on 16-18 March.
MTE 2023, held in Kuala Lumpur, was attended by participants from 13 countries including Malaysia, Taiwan, Hong Kong, Indonesia, Poland, Iran, Thailand, Vietnam, the Philippines, Azerbaijan, France, Singapore and China.
FRIM's achievements are as follows:
Gold medal and Special Award from IFIA for Best Invention Medal for Ciéra: Nature Inspired Eco Friendly Hand Wash product

Dr Mastura Mohtar, Mohd Ramdan Parman, Wan Sabariah Shuib (Nature Profusion Sdn Bhd); Dr Saiful Azmi Johari, Mazurah Mohd Isa and Hannan Abd Wahab.

Gold medal for 'Floating Lotus'

Mohd Rizuwan Mamat, Dr Marryanna Lion, Dr Wan Mohd Shukri Wan Ahmad, Dr Siti Aisah Shamsuddin, Mohd Azahari Faidi, Abdul Razak Abdul Rahman, Rashidah Hasnim @ Hashim and Nurul Faihira Kamaruzaman.

Silver medal for 'Nanocrystalline cellulose from kombucha pellicles (NCC_KP)'

Abd Rashid Li, Muhammad Khair Mohd Ayob, Saidatul Husni Saidin, Dr Maryam Husin, Nursyafinatul Nadhirah Mohamad Azizi and Nor Hidayatul Khamariah Zainul Abidin.

Silver medal for 'Portable Sensor CLTM'

Dr Azian Mohti, Nurul Ain Abdul Manaf, Dr Nik Norafida Nek Ali @ Nik Ali and Dr Wan Mohd Shukri Wan Ahmad.
In addition to the innovation competition, FRIM was also invited by the Ministry of Science, Technology and Innovation (MOSTI) to promote Teh Anggerik innovation product, which was selected as a Key Performance Indicator (KPI) for the Malaysia Commercialisation Year 2022 (MCY 2022).