KATS, FRIM, FDPM unveils National Tree Stamps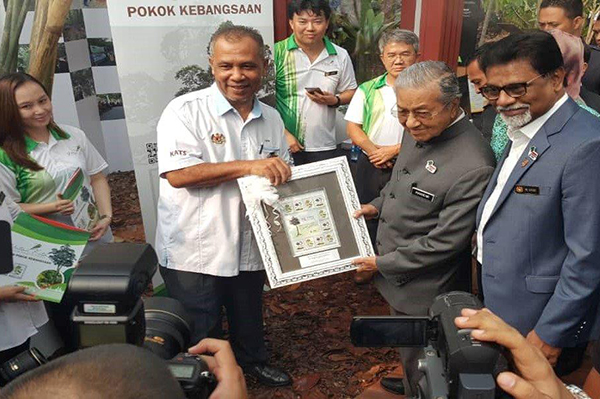 26 August 2019 (Monday) – The Ministry of Water, Land and Natural Resources (KATS), Forest Research Institute Malaysia (FRIM) and Forestry Department Peninsular Malaysia (FDPM) released the National Tree Stamps to mark the launching of merbau as the country's national tree.
Prime Minister Tun Dr Mahathir Mohamad, launched Merbau as the National Tree on 23 August at the opening of 'Hutan Kita' Exhibition at the Kuala Lumpur Tower. 
| | |
| --- | --- |
| Abd Latif (in white shirt) presenting the stamps to Mahathir while Xavier (far right) looks on.  | FRIM staff on duty at the 'Hutan Kita' Exhibition posing for a group picture with Abd Latif (middle). |
FRIM Director General (DG) Dato' Dr Abd Latif Mohmod presented the stamps to Tun Dr Mahathir during the exhibition visit session. Also present, KATS Minister YB Dr Xavier Jayakumar, KATS General Secretary Datuk Zurinah Pawanteh, FRIM Deputy DG (Operations) Dr Khali Aziz Hamzah, FRIM Deputy DG (Research) Dato' Marzalina Mansor and FRIM top management officials.
To instill the spirit of love for the country's forests as well as to raise awareness on the importance of biodiversity conservation among Malaysians, KATS, FRIM and FDPM came up with the idea of introducing a national tree.
Merbau or malacca teak (Intsia palembanica) is a tree species of legume family (Fabaceae). It is found widely in Peninsular Malaysia, Sabah and Sarawak, especially along rivers in lowland forests right up to 1,000 m altitude.
The National Tree Stamps designed by FRIM.
It is a large-sized tree up to 50 m tall, with straight boles as well as buttresses up to 4 m in height.
Merbau timber is a high quality heavy hardwood. It is durable and termite resistant, therefore popularly used as flooring materials including for swimming pool.
VIPs visiting FRIM exhibition booth manned by FRIM Genetic Lab Head Dr Lee Soon Leong (far left).
"Its durability symbolises the integrity of the country's forests, which is the result of sustainable management and the effectiveness of Malaysia's biodiversity conservation efforts," said Abd Latif.
For those interested, the limited-edition stamps will be sold at RM40 at the FRIM Visitor Information Centre (VIC), Kepong starting today.