FRIM laboratories get IKM excellence awards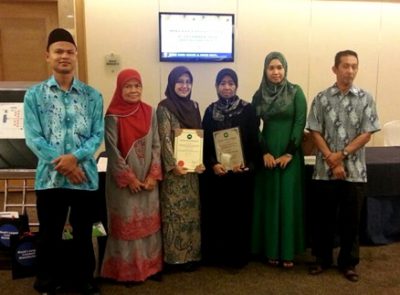 15 December 2014 (Monday) – Forest Research Institute Malaysia's (FRIM) Soil Chemistry Laboratory has received IKM Laboratory Excellence Silver Award at the Malaysian Institute of Chemistry's (IKM) awards presentation ceremony recently for attaining the IKM Laboratory Excellence Award for 10 consecutive years since 2005.
The awards presentation ceremony, held on 5 December in Kuala Lumpur in conjunction with the IKM Annual Dinner 2014, was officiated by the Deputy Minister of Science, Technology and Innovation, Datuk Dr Abu Bakar Mohamad Diah.
Other FRIM laboratories also receiving the IKM Laboratory Excellence Award this year were the Forest Products Division's Wood Preservative Analytical Laboratory and Wood Composite Testing Laboratory.
The Wood Preservative Analytical Laboratory was accorded the Gold Award in 2010 (for receiving the excellence award for the 15th consecutive year) and the Silver Award in 2005; whilst the Wood Composite Testing Laboratory received the Silver Award in 2013.
Apart from that, the FRIM Soil Chemistry Laboratory also received the MS ISO/IEC 17025 Certificate of Accreditation "for determination of potassium in plant tissue and plant based material" from the Department of Standards Malaysia on 17 November 2014.