FRIM's laboratory gets 'Excellence Platinum Award'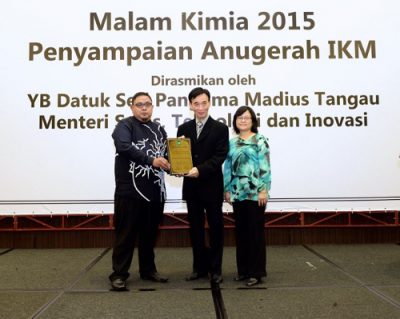 17 December 2015 (Thursday) – The Forest Research Institute Malaysia (FRIM) Wood Preservative Analytical Laboratory (MAAK) has received the the Malaysia Institute of Chemistry (IKM) Laboratory Excellence Platinum Award recently.
FRIM Research Officer Dr Mohamad Nasir Mat Arip represented the laboratory in receiving the award from IKM Vice President Dato' Dr Chang Eng Thuan at the IKM Award Presentation Ceremony 2015, held in conjunction with IKM Annual Dinner in Kuala Lumpur.
The ceremony was officiated by the Deputy Minister of Science, Technology and Innovation, Datuk Dr Abu Bakar Mohamad Diah.
This was the 20th consecutive year that the laboratory received awards from IKM.  MAAK had previously received the Gold Award (2010) and Silver Award (2005).
Also at the same event, FRIM Wood Composite Testing Laboratory and Soil Chemistry Laboratory were given the IKM Laboratory Excellence Award 2015.
IKM introduced IKM Accreditation Award in 1986 to give recognition to laboratories that have achieved competency in the practice of analytical work and in 1994, it was renamed IKM Quality Award.
In 2001, it was replaced by IKM Laboratory Excellence Award to ensure laboratories' commitment to achieve excellence in providing quality and competent testing services pertaining to local laws, particularly those related to health, safety and environment.
Also, participating laboratories are required to operate a quality system that meets the requirements specified in EN ISO / IEC 17025:2005.