Scan before entering FRIM, starting 1 June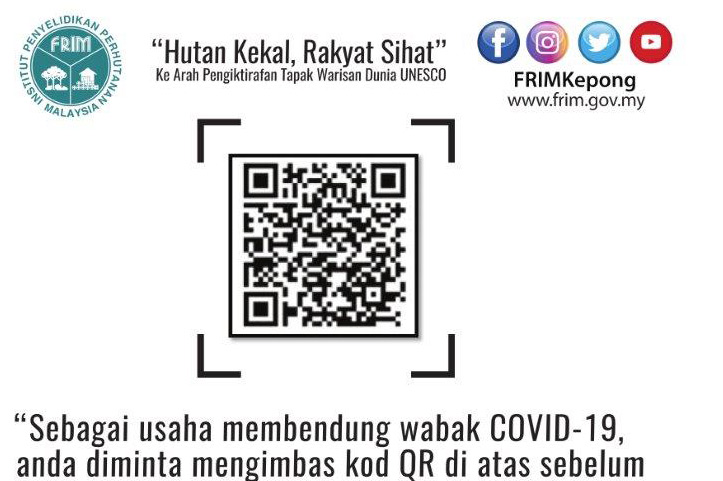 27 May 2020 (Wednesday) – To record the entry of official visitors, Forest Research Institute Malaysia (FRIM) will implement an online check-in and visitor registration system via QR code starting Monday, 1 June 2020.
| | |
| --- | --- |
| Poster with QR code to be scanned. | Security guard will show the poster as well as taking body temperature. |
The visitors arriving at FRIM's main entrance must do the following:
Scan the QR Code on the poster;
Allow FRIM security guard to take body temperature;
Fill in your full name, phone number, type/purpose of visit, and record body temperature in the system; and
Show the confirmation screen to the security guard.
Visitors are also encouraged to wear face masks and apply hand sanitiser before entering the campus.
"This initiative aims at protecting FRIM staff, the official visitors as well as our front staff. It will also to help the health authorities to do contact tracing if a new COVID-19 positive case is detected," said FRIM Director General Datuk Dr Abd Latif Mohmod.
For recreational purposes, FRIM will re-open its Kepong Botanic Gardens (KBG) and Taman Warisan after the end of the Conditional Movement Control Order (CMCO). The date for the reopening will be announced later. However, the main campus will remain closed until the end of the year.