FRIM urges visitors to respect campus regulations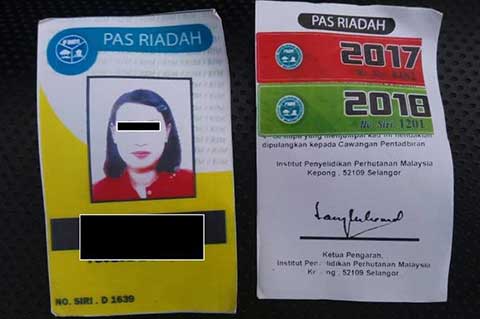 20 September 2018 (Thursday) – Forest Research Institute Malaysia (FRIM) urges visitors, staff and campus residents to respect and comply with the rules and regulations set by the Institute to ensure public safety as well as for the conservation and sustainability of the forest.
| | |
| --- | --- |
| Joggers encroaching the forest area without nature guides. | Thieves caught red-handed for stealing forest plants. |
Recently, there has a surge in the number of visitors and joggers encroaching FRIM's prohibited areas, and some have been constantly breaking and damaging the locks on the gates erected at the entrance of off-limits areas. Among others, there were visitors who were caught:
stealing plants from the forest;
poaching wildlife;
conducting group activities without permission and playing loud music;
conducting open burning or cooking; and
falsifying jogger/ vehicle pass.
FRIM Deputy Director General (Operations) Dr Khali Aziz Hamzah said, "We hope visitors will respect the rules and regulations. We plant to take stricter actions against those who refuse to follow our regulations."
| | |
| --- | --- |
| Open fire could affect tree health and cause forest fire. | Falsified jogger and vehicle passes confiscated. |
He also reminds visitors that they must engage FRIM's nature guide(s) to enter the forest trails.
"We are grateful that most of our visitors and joggers are cooperative and supportive of FRIM's efforts to conserve the campus."
"FRIM is a research institute, not a public park. We open the campus for public to exercise as well as to learn and appreciate nature," added Khali Aziz.
For more information, please refer to our Visitor's Guide, available in English and Bahasa Melayu at: https://www.frim.gov.my/attractions/visitors-guide/.